September has ushered in a fresh new season at WIK, and it's brimming with exciting updates for all art enthusiasts! Join Leonard and his trusty virtual companion, JOS, on an enthralling vlog journey as they unravel why experiencing art in the real world is an absolute must.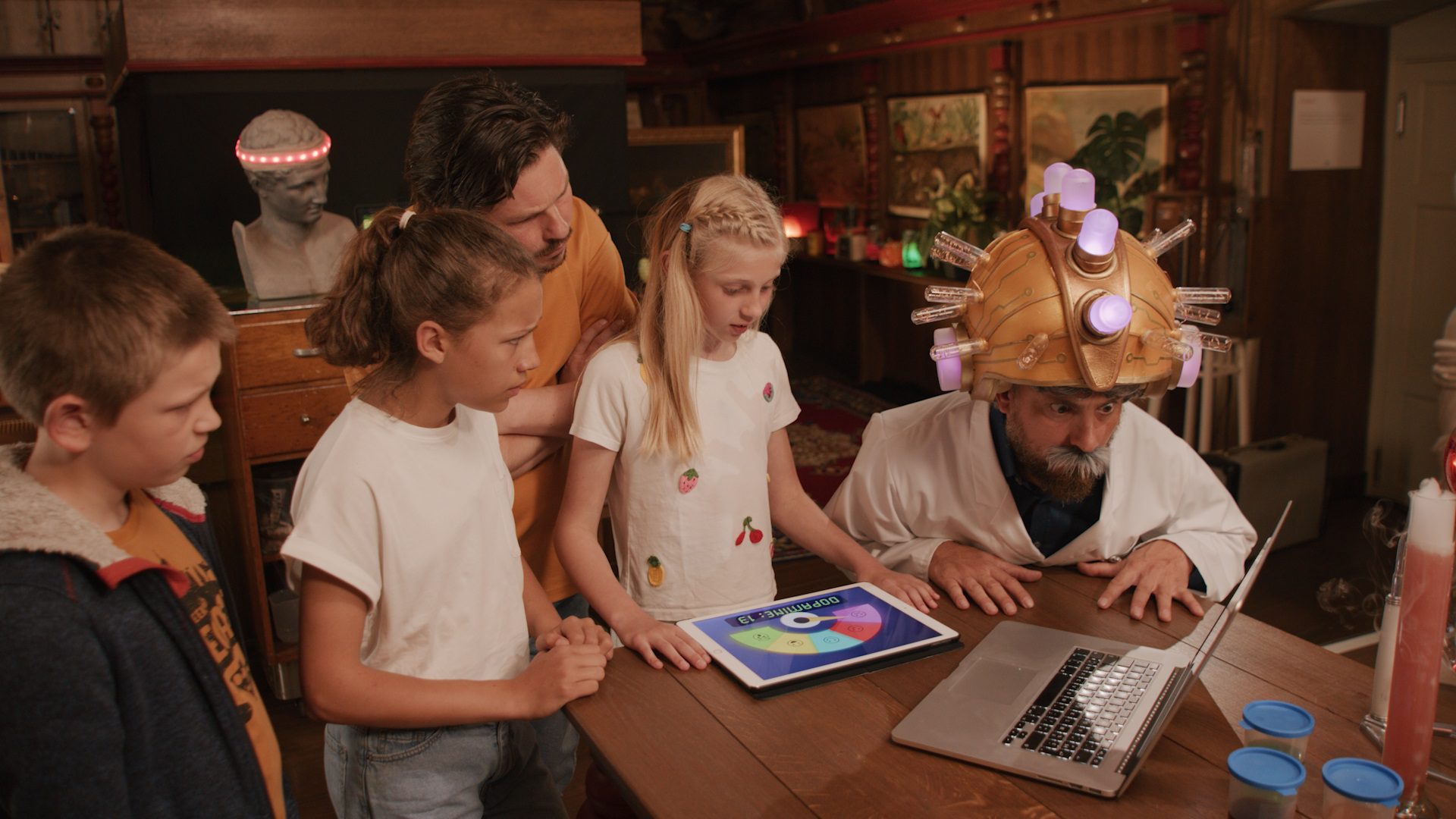 But that's not all! This month, we are also introducing two new audio guides. And for our dedicated educators, we have created a brand-new page meticulously curated to enhance your experience as a teacher.
We need your help! Spare just five minutes to share your thoughts in our survey, for which we will be eternally grateful. Plus, you will have the chance to win an exclusive goodie bag from The Phoebus Foundation!
Want to be the first to know about the very latest developments on WIK? Then subscribe to the WIK newsletter and discover the latest games, artworks, vlogs and DIY videos!
Looking for Boerentoren stories!
Calling all story tellers! If you share a unique bond with the Boerentoren or have a fascinating historical anecdote to tell, we want to hear from you. Watch the video below for details and reach out to us at verhalen@boerentoren.com
Would you like to tinker with vehicles? Give tractors and cranes a lick of paint? Do you like to document heritage or build models? Do you have a passion for the port and would like to share it with others?
For our maritime and logistics heritage sub-collection of more than 1,200 objects, we are looking for motivated team players to join our team of volunteers!
Interested? Contact us at info@phoebusfoundation.org
During the month of September, we will open the doors of our warehouse 'De Argentin' for Heritage Day Flanders! This special day is one of the biggest cultural events in Flanders with hundreds of unique monuments throughout the region opening their doors to the public free of charge.
Dive into the history of the port of Antwerp through unique stories and anecdotes on more than 1,200 objects from our collection of Port Heritage. Our team of dedicated volunteers will also be on site and will happily guide you through the exhibit.
When?
10 September 2023 10:00 – 15:30
Where?
De Argentin (De Pretstraat 1, 2060 Antwerp)
Pregnancy portraits by Jacob Jordaens and Anthony van Dyck
Little was known about portraits of pregnant women. Moreover, it was assumed that Southern Netherlandish portraits of mothers-to-be did not exist at all. Until now! Thanks to archival and cultural-historical research, dr Leen Kelchtermans and dr Katharina Van Cauteren were able to identify no less than five portraits of pregnant women, painted by the greatest Baroque masters: Jacob Jordaens' portrait of Catharina Behaghel (now in the collection of the Rijksmuseum, Amsterdam) and Anthony Van Dyck's portraits of Anna Wake (Mauritshuis, The Hague), Marie Nutius (The Phoebus Foundation), Sebilla Van den Berghe (Alte Pinakothek, Munich) and Marie De Raet (Wallace Collection, London). All five are part of a pair of pendants in which their images are combined with those of their spouses. Completely against tradition, the pregnant women are not depicted to the left of their husbands and thus in the inferior position, but to their right. As expectant mothers of the heir, they even seem to be given the place of honor!
Read the full article 'Pregnancy Portraits by Jacob Jordaens and Anthony Van Dyck', in Simiolus: Netherlands Quarterly for the History of Art.
A third self-portrait by Gillis Van Tilborgh
Find out more about the work of Brussels artist Gillis Van Tilborgh in A third self-portrait by Gillis Van Tilborgh. This iconographic and comparative analysis by Phoebus researcher Dr. Leen Kelchtermans and chief of staff Dr. Katharina Van Cauteren reveals the existence of a third self-portrait by Van Tilborgh alongside further details about his career and marriage.
You have probably heard or read about it by now. However, we are still extremely excited about the latest addition to the Phoebus collection: the 67-million-year-old Tyrannosaurus rex skeleton, also known as Trinity. Measuring 11.6 metres in length, 3.9 metres in height and with a 1.4 metres skull, this spectacular T. rex is now one of our collection's largest objects.
Within a few years, this unique specimen will be given a special place in our cultural project, namely the Boerentoren. There, the general public, including art lovers, historians, scientists and other enthusiasts, will be able to enjoy the history and beauty of art, science and architecture. Including the exclusive T. rex!
Heritage Day: Animals at the Port, from Horses to Elephants
Parents and children can enjoy a unique visit to The Phoebus Foundation sub-collection of Maritime and Logistic Heritage this year. 'Sparrow beaks', 'pig ears', 'crabs', the transport of wild animals, the 'nation's horses' and pests in the port are all illustrated and explained in great detail during a tour of more than 1200 pieces from the collection.
Discover how humans and animals have worked together in the port for centuries through animal stories, talks about the human-animal relationship and delve deeper into the traditions surrounding animals during Heritage Day on the 23rd of April.
Location – De Argentin, Pretstraat 1, 2060 Antwerp
Date – 23rd of April 2023 – 11:00 to 17:00
Behind the scenes with Paul Boudens
Our graphic designer Paul Boudens received the prestigious Henry van de Velde Lifetime Achievement Award this month!
Within the last three decades, Paul has become a household name in Belgian fashion and design. With his singular approach to design, he achieved great success nationally as well as internationally. To properly celebrate such a milestone, we decided to go behind the scenes and talk to Paul about his life, fashion, past and future, alongside his experience working for The Phoebus Foundation.
How did you become a graphic designer? Did you always have a passion for design?
I didn't really know anything about design. As a teenager, I got the idea of becoming a fashion designer since I could make a fantastic evening dress for my Barbies with one handkerchief (laughs). I could draw, although I was and am not the best draughtsman. That was also the reason why I failed the entrance exam at the Antwerp Fashion Academy. So I started studying applied communication, but that really wasn't my thing. I also tried translator-interpreter English-Italian, but that didn't go anywhere either. Halfway through the second year, I stopped studying that as well. Meanwhile, I was still tinkering at my dorm: I made cassette covers and designed birthday cards with Tipp-Ex and copies. That's how I was "discovered". The rest is history! (laughs)
How did you end up working for The Phoebus Foundation?
I met Katharina (Van Cauteren, chief of staff of The Phoebus Foundation, ed.) during another project when The Phoebus Foundation did not yet exist. We worked together on Walter Van Beirendonck's book for the exhibition Happy Birthday Dear Academie: 350 years of the Academy in the MAS. Since I was Walter's right hand – or left hand (laughs) – throughout my career and have realized numerous projects with him, he always knew where to find me for a fun project or publication. So that's how I got to know Katharina. It clicked immediately, and Katharina's vision really dovetailed with mine: she wanted an eccentric book—a woman after my own heart. A few years later, Katharina became head of The Phoebus Foundation and contacted me to work together again. The good working relationship we have is very important to me. The click between both parties has to be there.
What do you seek in a client or project?
I find it important that the client's vision matches mine and that the rapport is right. Otherwise, I cramp up completely, and nothing comes out of it. This means I occasionally have to turn down assignments. For instance, I once canceled a garden furniture project because it wasn't my thing. It may have paid very well, but money is not my motivation. I want to get energy from what I do. You don't want to know all the things I did for free in my life for budding designers early in my career. Nobody had a rotten franc back then.
You collaborated a lot with Antwerp fashion designers in the 1990s. I immediately think of the iconic invitation for Jurgi Persoons 'I know what you'll wear next summer' (Summer 1999)
Oh yeah! That's my line! That one is still being copied.
You are often associated with the fashion world but have also worked for other kinds of clients. The theater world, for example.
I just rolled from one to the other, actually. Today, people are very career-minded, and rightly so. I was never like that. In the beginning, I did all kinds of commissions, and they started to increase. After a while, I worked for four designers simultaneously: Walter Van Beirendonck, Dries Van Noten, Jurgi Persoons, and Olivier Theyskens. Great fun, but you can't do the same for everyone. So I went in the schizophrenic direction and invented my own style for each one of them. But, of course, based on their input; I am actually more like a conduit. The same applies to the theatre world or completely different clients too: I always go along with their story.
Do you have a step-by-step plan for when you start a new assignment?
No, I always start from a white sheet. When I start designing a new exhibition, for example, I just need images and text, and then I start playing. For me, that's my sandbox. I enjoy creating something from scratch.
You often mention in interviews that you like to work toward timeless design.
That is indeed what I strive for. Of course, it is not always feasible, but I always seek the right balance. First of all, I choose an appropriate font very carefully, and then I have already won half the battle. I still favor the less is more principle and always apply a few rules of my own in my work. For example, I never use more than three different fonts in one design.
Growing up in the analog era, I do think in a different way than younger designers. Today, graphic designers turn on their computers and can instantly choose from hundreds of fonts. That also makes it harder to make a selection. Moreover, many of the elements we get digitally today are already outdated. I always strive for something that will still be beautiful in five years. But, of course, you have to go with the times, and I try to do that as well.
When I look at your work, I always notice a lot of red in it. Is that your favorite color? What does red mean to you?
For me, red equals passion. It is a colour that contrasts well with black and so you can see very well what you are doing when you start something. I learned that from my studies, Paul Van Ostaijen, Coca-Cola red, Andy Warhol, … I just have a great fondness for red. Get used to it! (laughs)
How do you associate your style with the needs of your clients, and in what ways do you apply that to your designs for The Phoebus Foundation?
My style is my DNA. I have four different style types, including a very wild one, but I also have a very classic style. It just has to fit. With The Phoebus Foundation, it's okay to be more eccentric subtly, and I like that. I enjoy doing everything for The Phoebus Foundation, and playing with text and images allows me to express myself. Sometimes I go too far, but then I also get called back. It's always a scanning mission. I love the design phase and the search for the right style.
Many of The Phoebus Foundation's projects revolve around Old Masters. This is, of course, utterly different from extravagant fashion projects with bright colors. Is it more challenging to work with these artworks, where the tone is sometimes a little darker?
I think it's an excellent move to add a pop of color, as I did for the books and printed matter of the exhibitions Blind Date (2020) and Crazy about Dymphna (2022). I gave those a solid coat of fluorescent yellow and pink. Although that requires some caution: enough white has to be incorporated between the bright colors and the artworks because otherwise, it can clash. The advantage of working with artists who have long since passed away is that they cannot complain (laughs). In that sense, contemporary artists are much more challenging and not always obvious. Initially, there is always a bit of mistrust. I always tell them: "I'm here to help you and not to ruin your work. It's not about me either. It's about you and your work that has to come out as good as possible… But in my way" (laughs).
Do you have a favorite work of art from The Phoebus Foundation's collection?
Absolutely: Concetto Spaziale by Lucio Fontana! I would love to hang that one in my office (laughs). Bird by Karel Appel is also one of my favorites. Among the Old Masters, I go for Portrait of a Young Woman by an Anonymous Antwerp Master. It contains a bit of Portrait of a Young Lady vibes.
What is the aftermath of your Lifetime Achievement Award?
A major identity crisis (laughs). No, I am already planning a new exhibition. Winning the award naturally gave me the drive for more. I'm not going to rest. More challenges should always be there, and I always like a bit of suffering. I am having a great time! I always found that the more I worked, the more I achieved. So: bring it on!
After 2001, I thought about starting an agency, but I love nothing more than designing. And with an agency, I would have to delegate and find jobs for my interns and staff. No way.
What is your recipe for success?
I have been around for a long time, having been around since the late 1980s. But I still try to get the best out of every assignment, even for myself. Just because you get a bit older doesn't mean you can start slacking off. Actually, I make everything for myself, and that's the secret, I think. If I don't like it, my clients aren't going to like it either. So I am the guardian of the quality of my work.
Will there be a Paul Boudens Volume II?
Probably in 2025, when I turn sixty. Then I will plan two exhibitions simultaneously: one at the Mode Museum and one at another location.
Other than that, do you have any other plans for the future?
Going to Japan again. Visit New Zealand. Continue working on my second monograph. But above all: not getting bored and making cool things! I regret nothing and am very happy to have found my thing in this life.
Our brand-new art project for kids is finally here: 'Wat is Kunst?' (What is Art?) or WIK!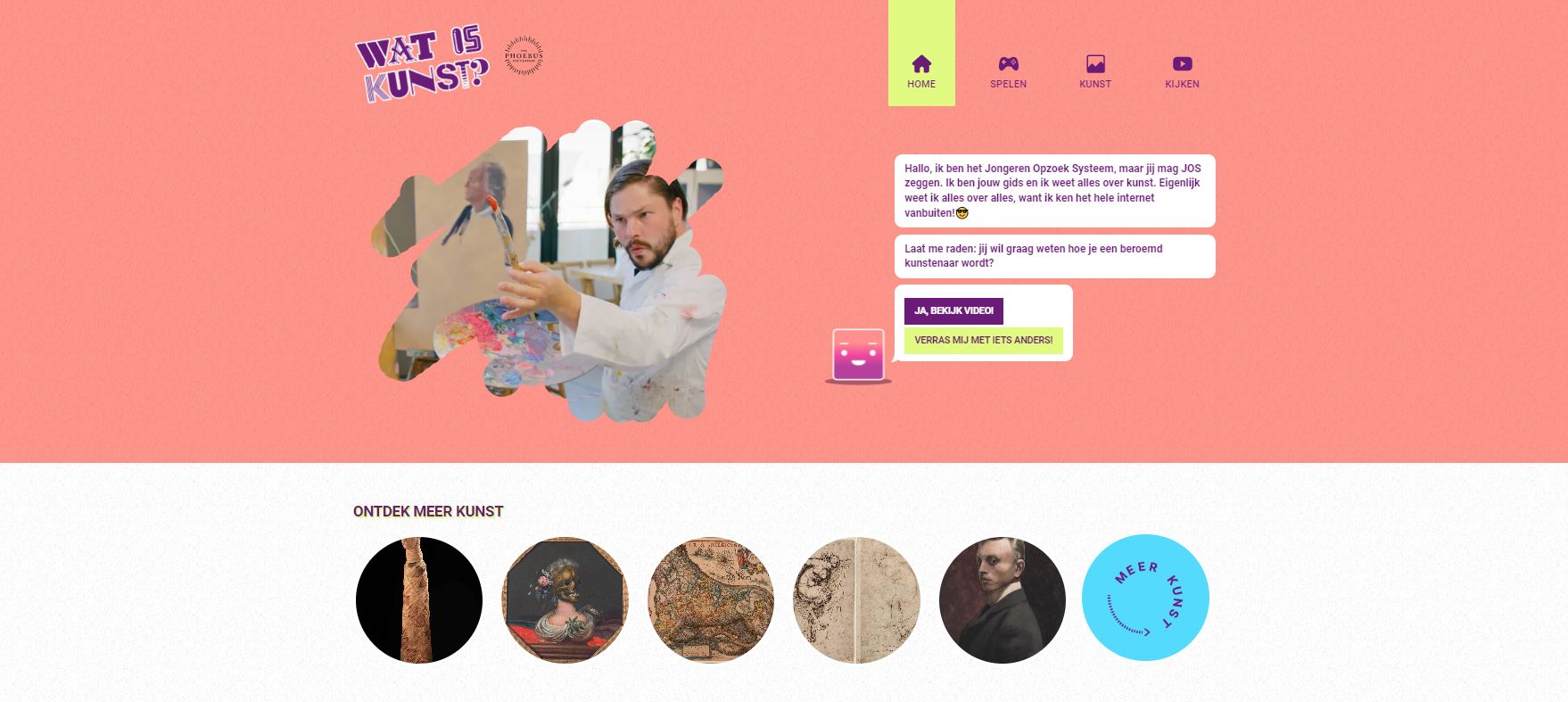 WIK is an interactive art platform for kids from the ages of 8 to 12. In several comical vlogs focusing on art questions, presenter Leonard and his virtual assistant JOS take you on an art adventure.
Furthermore, the platform offers an interactive art gallery, creative games, and DIY videos to stimulate children artistically.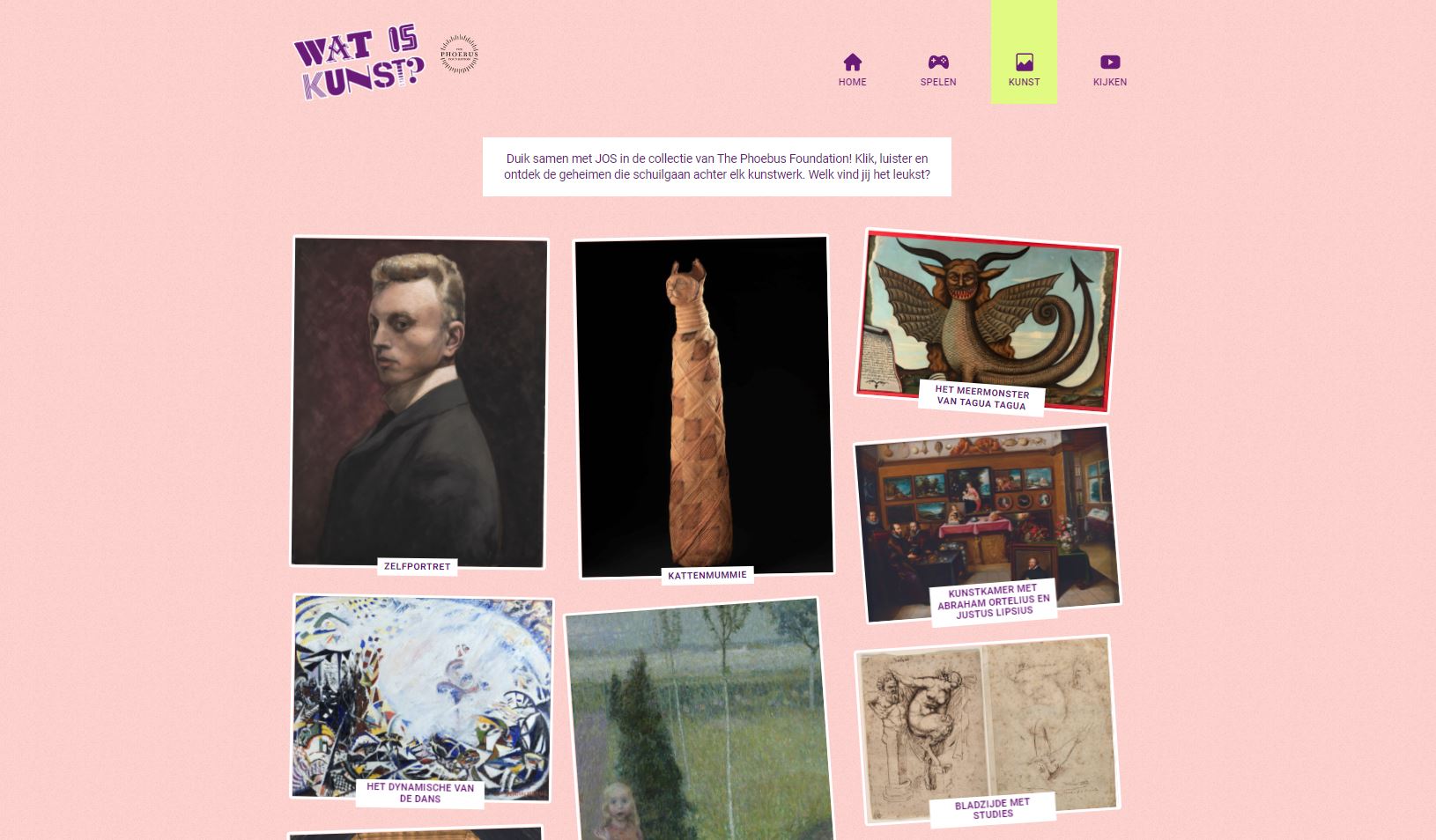 On the platform, teachers can find inspiration and download ready-made lesson suggestions for second and third-grade elementary schools. These meaningful lesson suggestions allow students to purposefully reflect on and experiment with art. Ideal for discovering art in all its facets with your students in a playful and interactive way!
Discover everything about WIK on www.watiskunst.be
Dr Katharina Van Cauteren in 'Berg en Dal'
Discover the latest episode of the KLARA radio programme Berg en Dal with Pat Donnez and none other than Dr Katharina Van Cauteren, Chief of Staff of The Phoebus Foundation! (in Dutch)
Wat is Kunst? / What is Art?
Discover our upcoming art project for children: What is Art? ('Wat is Kunst?') Or WIK!
That's right! We are developing a great interactive art platform for children aged 8 to 12. Through several comic vlogs focusing on art questions, presenter Leonard, known from Ketnet, and his virtual assistant JOS, with the voice of Clara Cleymans, take children on an art adventure. Furthermore, the platform offers an interactive art gallery, creative games, and DIY videos to stimulate children artistically.
Moreover, we will bring WIK to the classroom! Teachers can find inspiration on the platform and download ready-made lesson suggestions for second and third-grade primary schools. These meaningful class suggestions let pupils reflect purposefully on art and experiment with it. An ideal tool for discovering all facets of art with your pupils playfully and interactively!
Want to know more? Watch the trailer below or check www.watiskunst.be, available from the 9th of January!